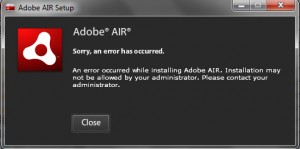 I use Tweetdeck mostly to send updates to Twitter and Facebook. For the past few weeks, I've been attempting to upgrade Adobe Air to version 2.0.2 from 1.5 and it just keeps failing with the above error. If you try to Google this error, you'll notice this happening a lot across all OS platforms.
The fix is actually quite easy for users on Windows. I'm currently running Windows 7 Professional x64, here's how to get your upgrade working.
Download the Microsoft Windows Installer Cleanup Utility. A local copy is available for download below since the MS website might be slightly confusing.
Open the cleanup utility and find the entry for Adobe Air and remove it. You can exit out of the utility once you are done.
Download the latest version of Adobe Air and install it. It should not error out like before.
If you go to Add/Remove programs, you'll notice the version of Adobe Air has been updated correctly now.
Re-install your Air applications since they will complain that there's no Air installed on the system.
Microsoft Windows Installer Cleanup Utility – {filelink=3}