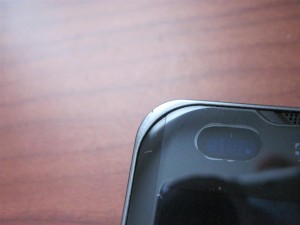 The Seidio guys have been making quality cases and accessories for many phones in recent years, but it seems something isn't right with their current Surface case for the LG G2x.
As you can see from the above picture, that corner mark was made by the inner edge of the Seidio Surface case. The case either needs to have it's inner edges shaved slightly to prevent this from happening. This is just one corner, the other three corners have similar cosmetic blemishes now.
Is this a repeat of what happened with Evo users from last year? For the time being, I'm back to using my softer TPU case. A note has been sent into Seidio technical support, I'll see what they have to say about this.