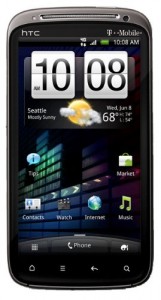 There's a new radio just ripped from the RUU of the new Sensation XE. What's great is that this radio works perfectly fine on the regular TMOUS Sensation 4G. Whether or not it has any added benefit has yet to be seen since it is so new. However, from initial speed tests it seems it's slightly better or on par with previous releases.
The radio should show as 10.58.9035.00P_10.15.9035.02_2 under your phone settings on your S4G. Please head over to this XDA thread to download the latest release. Please confirm the md5sum before flashing! If it does not match, please re-download again or else you risk bricking your phone. You can check md5 via the adb shell or any free md5sum checker program.
To flash, all you need to do is place the downloaded PG58IMG.zip file at the root of your sdcard. Then reboot into your bootloader and it will prompt you to update it.
After the radio is done flashing, proceed to reboot the phone. You will most likely get stuck at the white HTC screen. Don't worry, it's easily fixable.
With adb, issue the command adb reboot recovery while on that white HTC screen. This is assuming you have adb tools installed and your phone is connected to your computer. If you do not have adb install, download the attached zip below that contains all you need for adb.
Once you are in recovery (Clockworkmod in my case), wipe cache, then go to advanced and wipe dalvik. Now reboot your phone and you should get past the white HTC screen now. You can also delete the zip file that you placed on your sdcard earlier or move it for safe storage somewhere else. It is best not to leave it sitting on your sdcard.
[download id="8″]