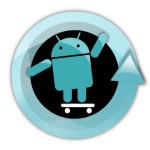 The latest Cyanogenmod (CM) 7 Nightlies have added a few notable updates to the latest builds. One of the more requested ones (at least for me) is the battery percentage in the status bar. This was available in CM6, but CM7 had some previous problems in getting this done, but that has been overcome with the latest builds.
The new battery percentage is slightly different in that the percentage isn't inside the battery icon. The new style has the numbering to the left of a small battery bar.
To update to CM7, grab it from the CM site or if you are a premium Rom Manager user you can download it directly from the app.